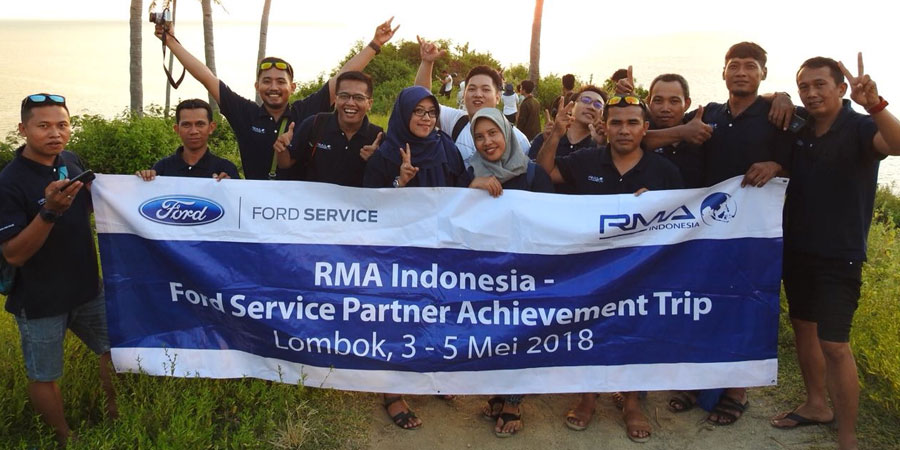 The Best Dealer in Parts Sales in the year 2017 won by Ford Surabaya, while Best Dealer in Service Operational 2017 won by Ford Medan, then Best Newcomer Dealer 2017 won by Ford Palembang. For all this achievement, RMA Indonesia gives the awards to the winners in the form of money prize and Vacation Trip to Lombok, NTB held on May 3-5th 2018.
This contest is an annual program of RMA Indonesia as appreciation to Ford-RMA Service Partner (FRSP) on service or achievement of sales of parts of the year 2017. The contest is expected to inspire a spirit of team service and parts FRSP to give a better service again in future.
The winners of the Vacation Trip to Lombok, this time it was great, because for three days in Lombok, all participants can spend time visiting various tourist sites in Lombok, snorkelling, cycling, enjoy Lombok meals together, and the most important is they had a sharing session or could share the experiences regarding after sales and Ford services along the 2017.
The first day arrived in Lombok, participants are invited to visit the village of Sade, the beach of Tanjung Aan, Kuta Beach, the beach, and the beach Mandalika. Followed by dinner at RM. Taliwang Raya and stay at Core Premier Hotel at Senggigi.
In the morning after breakfast, continued with the programme "Island of Hope". Participants were invited to make snorkel in 3 Gili, Gili Trawangan, Gili Meno and Gili Air. On the afternoon they went to Malaka beach to watch the Sunset.
Travel trip ended on Saturday May 5th 2018. Participants are invited to enjoy the city tour of Mataram, buy some merchandise at Sasaku, Lombok souvenir pearls, followed by lunch at the Warung sate Rembiga Mother Sinnaseh and tours to Narmada Park, then back to Jakarta.
The togetherness that is created during this event expected to grow a new spirit and energy to maintain communication (Team Bonding) in serving the customer Ford optimally. Keep success for the winners, hopefully in the next year we more motivated to raise a better achievements again.